Quick & Easy Shrimp Bowl Recipe
One of the most challenging parts of leading a healthier lifestyle is, without a doubt, figuring out a way to eat that supports your goals, is manageable, and is still super tasty. And, let's be honest, even once you've uncovered your nutrition goals, sometimes you just need new recipe ideas!
That's exactly why we've enlisted the help of our strong strong friend JamaRR Royster, aka @pancakegawd. 🙌 As you can see, he's always serving up a delicious and nutritious recipes on his Instagram. And today, we're sharing the Quick & Easy Shrimp Bowl recipe he developed just for our crew.
Grab the ingredients for this one the next time you head to the store, and be sure to scroll all the way to the bottom of this post to learn more about our nutrition offerings.
Shrimp Bowl Recipe
By JamaRR Royster (@pancakegawd)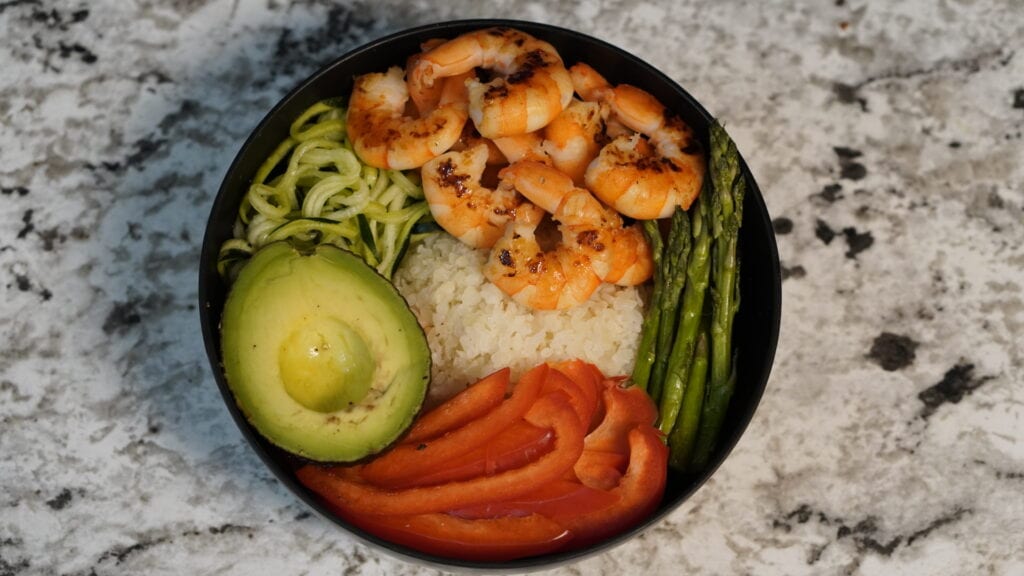 Estimated Nutrition Info:

345 Calories
40p | 28c | 8f
Ingredients:
6oz Jumbo Cooked Shrimp (thawed)
21g Zucchini (noodles)
340g Riced Cauliflower (frozen)
2oz Asparagus
50g Raw Red Pepper
45g Avocado
Directions:
Step 1:
Microwave frozen riced cauliflower for 5-7mins and pour into a bowl when finished.
Step 2:
Cut zucchini into thin, noodle-like strips (use a vegetable spiral). Toss with the 2 teaspoons garlic salt, and place in a colander to drain for a few minutes. Can eat raw or bring a pot of water to boil and add zucchini; cook for one minute. Drain; rinse immediately with cold water to stop cooking. Add to bowl.
Step 3:
Thinly slice red pepper, trim and cut asparagus. Heat skillet over medium, add cooking spray and toss in asparagus for 5 mins, stirring occasionally until the asparagus turns a beautiful bright green color. Add to bowl.
Step 4:
Season shrimp as desired with a hit of lime. To sauté shrimp:
Heat skillet over medium-high.
Add cooking spray.
Add 6 ounces seasoned or marinated shrimp to skillet.
Cook 2 to 6 minutes until shrimp are opaque.
Add to bowl
Step 5:
Cut avocado in half or slice 45g and add to bowl.
Step 6:
Eat and enjoy.
Want to uncover your nutrition-related goals, build lasting habits, and understand how to put together your own recipes? Join the notification list for our eight-week Nutrition Course that launches on October 12!