Meal Prep Lunch: DIY Instant Noodle Cup Recipe
Even if you've got healthy recipes dialed in for when you're home, one of the even more challenging things is finding easy, delicious and nutritious recipes that are good for on-the-go; which is exactly why we asked our strong friend JamaRR Royster, aka @pancakegawd, to come up with something that would be perfect for on-the-go eating. And boy did he deliver – this recipe is amazing because you can customize it to your exact taste and it's super easy (and fun)!
It's an especially great option for your weekly lunches. In 15 minutes, you can make as many as you need. You can even make them different flavors by adding unique veggies or spices. But the basic method is the same! We gave you a list of ingredients options, and then broke down one of our favorite combinations.
DIY Instant Noodle Cup Recipe
By JamaRR Royster (@pancakegawd)

Customize your cup in this order:
Step #1: Choose 1 Stock Base
Beef stock base

Chicken stock base

Vegetable stock base
Step #2: Choose 1-2 Flavor Boosts
Teriyaki sauce

Fice vinegar

Fresh ginger or fresh herbs

Minced garlic

Lime, lemon, or orange zest

Spice Blend

Bouillon Cube

Soy Sauce
Step #3: Choose 1-2 Proteins
Shredded chicken or beef

Shrimp (precooked)

Boiled egg

Tofu

Smoked salmon

Beans

Edamame
Step #4: Choose as many Vegetables as you want!
Carrots

Bok choy

Sliced mushroom

Green onion

Zucchini

Snow peas

Corn

Red cabbage

Red onion
Step #5: Choose 1 Pasta
Angel hair pasta

Vercimille 

Ramen noodles

Rice noodles

Linguine

Lo mein noodles
Shredded Chicken Instant Noodle Recipe
By JamaRR Royster (@pancakegawd)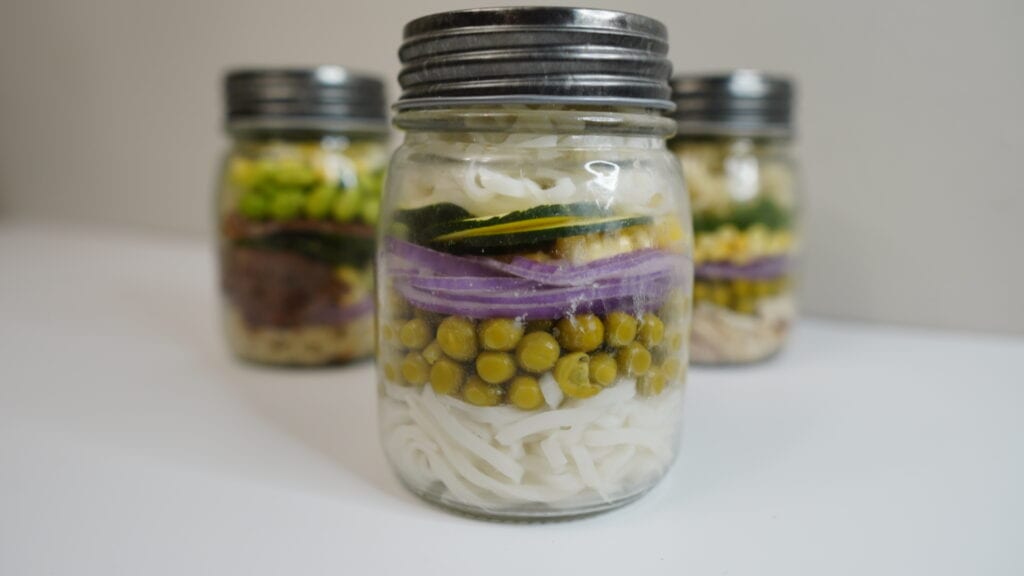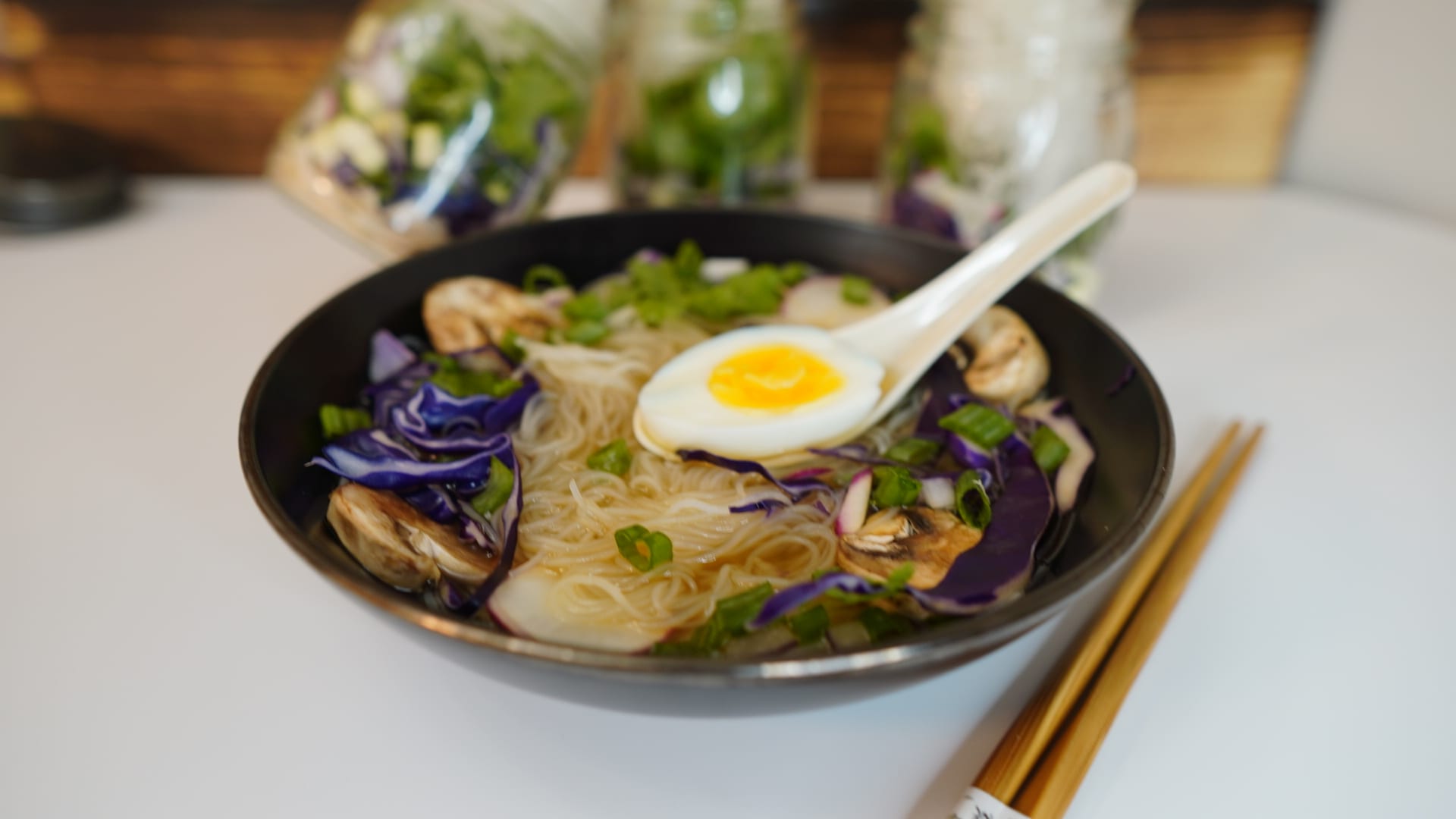 Estimated Nutrition Info:
250 Cal | 26g of Protein | 2g of Fat | 30g of Carbs
Ingredients (selected from the above option):
Base – 1 tbsp chicken stock base
Flavor Boost – Chopped cilantro and dill as desired
Protein – 1/2 cup of shredded chicken
Vegetables – 1 oz sliced mushrooms, .5 oz green onions, 1/3 cup zucchini, .25 oz red cabbage, .25 oz red onion
Noodles – 28 g vercimille
Directions:
Choose a high-quality flavor base (vegetable, beef, chicken), and add about 1 tablespoon to the bottom of the mason jar.
Cook the chicken and shred it. Layer the chicken in the jar over the base. (It is super easy if you have left over chicken from another meal. Just shred it and add it to your jar.)
Pour the liquid ingredients over the chicken. This would be the soy sauce, hot sauce and lime juice, etc.
Cut and layer the vegetables next.
Bring a large pot of water to a boil. Add the noodles and cook according to the package instructions, until just tender. Drain and divide among 4 to 6 pint-size jars.
When ready to eat, cover the noodles in each jar with boiling water. Stir and enjoy! (Can be eaten in a mason jar, but recommended to be served in a bowl).
Tip: To avoid over cooking vegetables or if you just like them raw, store sliced vegetables into a zipper-lock bag. Add to soup once finished. These should last about 4-5 days in a mason jar in the refrigerator. Let's jump into some ingredient options, and then we'll share our favorite Shredded Chicken Instant Noodle Cup options (which is great replaced with Tofu for a vegan option). 
Want access to more recipes and nutrition guidance? Check out our 1-on-1 Nutrition Coaching service. Our team of certified coaches help you gain control of your nutrition by building (and constantly optimizing) a custom program to fit your needs. Together we create a lifestyle designed to make your goals a reality!