Quick Lunch Recipe: Teriyaki Meatballs
Looking for a recipe that makes meal prepping for lunches super easy?! Our strong strong friend, JamaRR Royster (aka @pancakegawd), has you covered in case you have a busy week ahead. Plus, this recipe is a great options for a family dinner, too!
If you want to prep them for your week ahead, grab these ingredients and give yourself about 45 minutes to get this delish meal together from start to finish.
Teriyaki Meatball Recipe
By JamaRR Royster (@pancakegawd)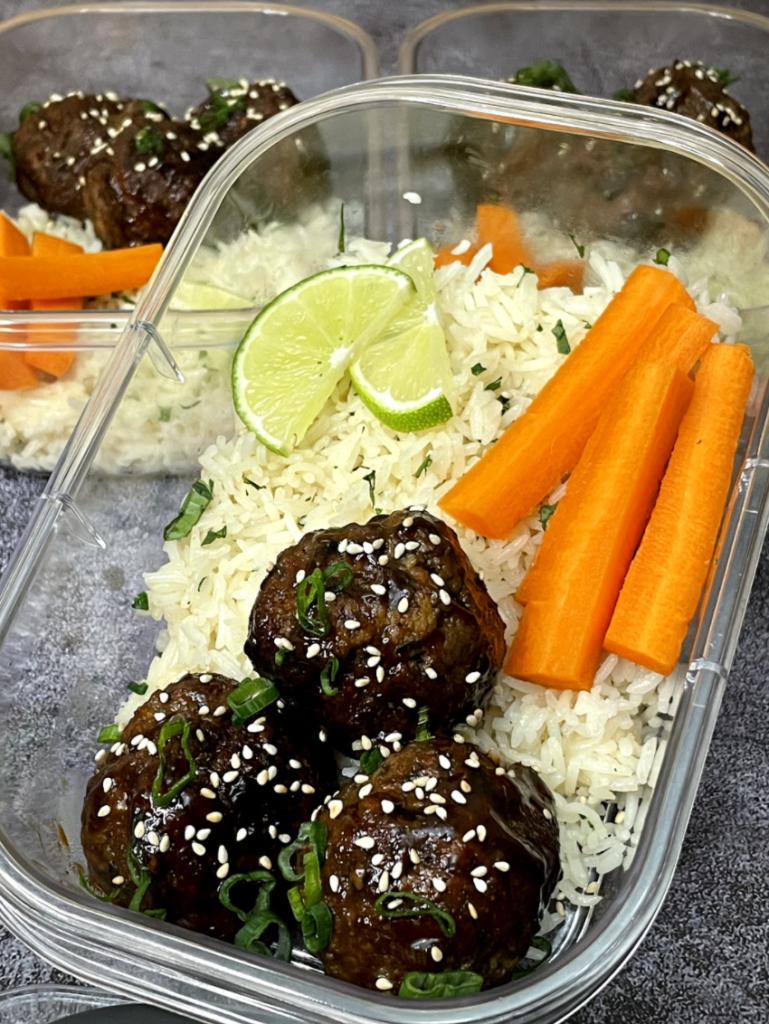 Estimated Serving Size & Nutrition Info:
Nutrition Info Per Meatball – 175 Calories, 12.5g Protein | 9g Fat | 9g Carbs
(Recipe makes about 23 meatballs | 2-3 meatballs per meal recommended)
Ingredients
2lbs 96/4 Ground Beef

1 Cup of Italian-style Bread Crumbs
1/2 medium sweet onion, diced
2 Large Brown Eggs
¼ Cup of Green Onions Chopped
½ Tsp Garlic Powder
½ Tsp Black Pepper
½ Tsp Salt
1 Tsp Minced Ginger
Hughes Sugar Free Teriyaki
Directions:
Preheat the oven to 375 degrees F.
In a large bowl, mix together ground beef, breadcrumbs, eggs, green onions, garlic, minced ginger, salt, and pepper, until well combined. Shape mixture into 1 ½ balls and place spread apart on a prepared baking sheet lightly sprayed with cooking spray.
Bake meatballs for 25-35 mins or until cooked through.
While the meatballs are baking, toss in teriyaki sauce in a medium saucepan and bring to a boil over medium heat, whisking continuously. Reduce heat and simmer for 8 to 10 minutes (the sauce will start to thicken) then toss with the meatballs.
Serve immediately over cilantro lime rice topped with green onions and sesame seeds or prep meals for lunch for the week.
Eat and enjoy.
Looking to learn more about nutrition and how to cook for yourself in a way that supports your nutrition goals? Be sure to check out our Habit Hacker, our nutrition course that provides you with a simple system for exceptional results (that's just $16 for eight weeks)! If enrollment isn't open, add yourself to the Early Access List where you'll be notified when enrollment begins… and you'll even be able to start the course before anyone else!