Post-Workout Pancake Tacos w/ Grilled Peaches and Bacon
So you just hit a squat or deadlift day, and now you're ready to make a killer brunch at home? Our strong strong friend, JamaRR Royster (aka @pancakegawd), has you covered with this absolutely delicious, easy and protein-packed recipe.
Pancake Tacos w/ Grilled Peaches and Bacon

By JamaRR Royster (@pancakegawd)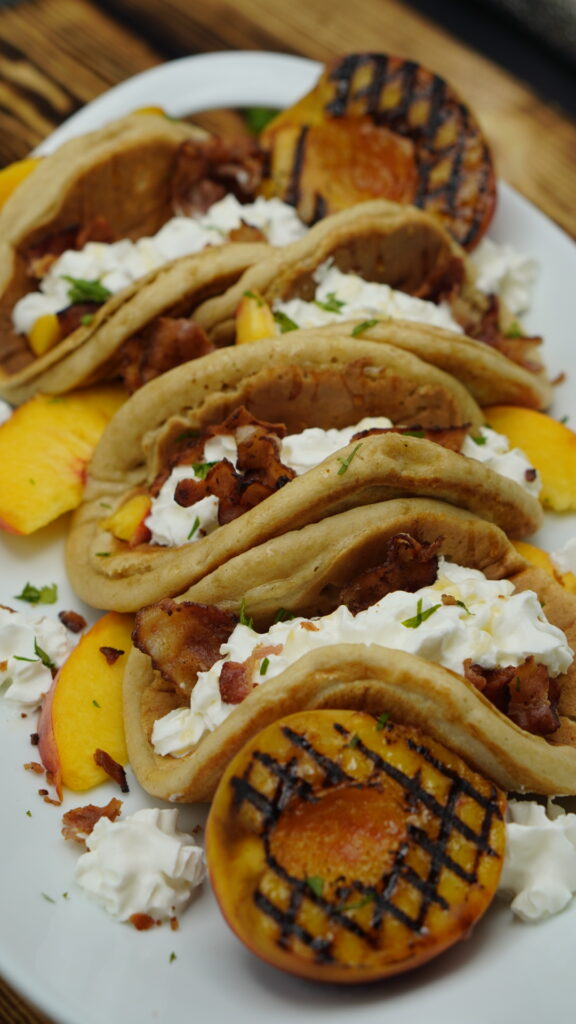 Estimated Serving Size & Nutrition Info:
Serving Size: 1 serving is about 4 pancakes
Estimated Per Serving: 624 Calories, 35g Protein | 12g Fat | 75g Carbs
Pancake Gawds Signature Ingredients:
106g Kodiak Cake Buttermilk Pancake Mix
¾ cup Water
Other Ingredients:
1-2 Peaches
2 Slices of center cut bacon
Reddi-Whip (Extra Creamy)

Directions:
Mix in water with pancake mix. (Find a smooth consistency that's not too thick or too soupy)
Lightly oil a griddle and heat over medium-high heat. Fill a 1/4-cup measure with batter and pour onto the hot griddles. Cook until bubbles form and the edges are dry, 3 to 4 minutes. Flip and cook until browned on the other side, 2 to 3 minutes. Repeat with remaining batter.
Slice the peaches so you have 12 wedges from each peach. Lightly brush with the water. (Optional: sprinkle all over with the brown sugar.
Place the peach wedges on the grill or skillet and cook for a minute on each side. Remove from the heat.
Add the bacon into the frying pan and cook for around on each side until crisp. Remove from the heat.
Now it's time to assemble. Fold one of the pancakes into a taco shape and place on a large serving board/plate/tray. Prop up with a peach or cup on each side to keep it in the taco shape, then place another pancake next to the first in the same way (moving the supporting glass/cup so there are now two tacos in between). Continue this way until all the pancake tacos are in place.
Take the cream from the fridge and pipe into each pancake. Top with the peach and pancetta sliced..
Serve with syrup or honey.
Enjoy!
Looking to learn more about nutrition and how to cook for yourself in a way that supports your nutrition goals? Be sure to check out our nutrition courses – Habit Hacker (Level 1) and Macro Mastery (Level 2) – that can meet you wherever you're at in your nutrition journey, whether you're a total newbie or an athlete looking to kick things up a notch! If enrollment isn't open now, be sure add yourself to the Early Access List where you'll be notified when enrollment begins… and you'll even be able to start the course before anyone else!