Meal Prep Lunch: Zucchini Pasta w/ Creamy Avocado Pesto
The last time we shared a lunch prep idea, you guys absolutely loved it… so we're doubling down and sharing another delicious, nutrition, perfect for lunch prep recipe from the one-and-only JamaRR Royster (aka @pancakegawd).
This recipe is the perfect lunch (or dinner, of course!) prep foundation, because you can make a big batch and then add different proteins to it throughout the week to mix things up. Enjoy, friends!
Zucchini Pasta w/ Creamy Avocado Pesto Recipe
By JamaRR Royster (@pancakegawd)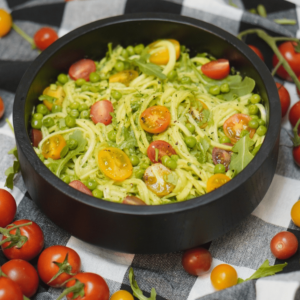 Estimated Serving Size & Nutrition Info: 
Serving Info – 1 Serving Size (Half Recipe):
Nutrition Info – 125 Cal, 5g Protein | 8g Fat | 16g Carbs
… add 30 g Protein for 4 oz Chicken | 11 g Protein for 4 oz Tofu (check your protein for full macros)
Ingredients
2 ripe avocados, halved, seeded and peeled
2-3 Zucchini
1/2 cup fresh basil leaves
2 cloves garlic
2 tablespoons freshly squeezed lemon juice
Kosher salt and freshly ground black pepper, to taste
1/3 cup Vinegar
1 cup cherry tomatoes, halved
Water as needed

Preferred protein(s) to top dish with!
Directions:
Spiralize zucchini to make noodles. Set aside.
To make the avocado sauce, combine avocados, basil, garlic and lemon juice in the food processor; season with salt and pepper, to taste. With the motor running, add vinegar in a slow stream until emulsified; set aside.
In a large bowl, combine zoodles, and avocado sauce.
Top with protein (if you'd like).
Serve and enjoy!


Want access to more recipes and nutrition guidance? Check out our 1-on-1 Nutrition Coaching service. Our team of certified coaches help you gain control of your nutrition by building (and constantly optimizing) a custom program to fit your needs. Together we create a lifestyle designed to make your goals a reality!